Home Loan Eligibility
Home Loan Eligibility Calculator is used to determine the home loan amount that can be availed in getting your dream home. Almost every bank and NBFC (Non-Banking Financial Company) provides access to the Home Loan Eligibility Calculator. At Paisabazaar, you can check your home loan eligibility and also further check and compare home loan deals from several banks at no cost with accurate results.
Home loan eligibility factors

Home loan eligibility criteria

Age of the Applicant
Minimum: 18 yrs. Maximum: 70 yrs.
Minimum Income Eligibility
Rs. 25,000
Type of Employment and
work experience
Salaried Professional, Self Employed are eligible.
Minimum work experience should be
3 years for salaried and 5 years for business.
Status of Employment
Regular: at least 1 years in
current job/business/profession.
at least 2 years of prior employment
Credit Rating and
minimum cibil score
Credit rating should be good
as per recognized credit bureau.
Minimum cibil score is 650.
Maximum Loan Eligibility
Up to 90% of Property value
Eligibility with Co-applicant
or Joint home loan
2-6 earning family members may
be added to get higher loan eligibility
Type of property being purchased
Affects loan amount eligibility
Home Loan Eligibility Calculator
With home loan eligibility calculator, you can know the approximate amount of loan you are eligible for. This is calculated on the basis of your monthly income, existing EMI (Equated Monthly Instalments), rate of interest and loan tenure. You can check the housing loan calculator at paisabazaar.com and know the amount you can get from the lending institution or the bank.
Buying a house of your own is no more a tough task, as home loan allows you to borrow a large amount of money and purchase your home without affecting your financial stability. But, not everyone is eligible for home loan. Therefore, before applying for a home loan, it is always recommended to check the eligibility to avail home loan. The eligibility can be checked from the specific tool known as 'Home Loan Eligibility Calculator' offered by almost every lender.
Factors to Calculate Home Loan Eligibility
Banks and NBFCs Use following factors while calculating the home loan amount the borrower is eligible for.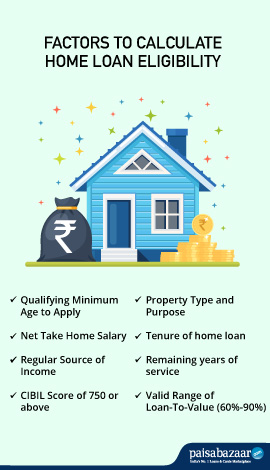 Qualifying Minimum Age to Apply
Net Take Home Salary
Regular Source of Income
CIBIL Score of 750 or above
Residence Status or Tenure
Property Type and Purpose
Valid Range of Loan-To-Value (60%-90%)
Remaining years of service
Tenure of home loan
EMI – if you are paying EMIs for other loans taken previously then this will also affect you home loan eligibility.
One can increase his/her eligible amount for home loan by adding co-applicant or by taking joint home loan. Your home loan eligibility will vary bank to bank depending upon the rate of interest and other features of the lender.
Home Loan Eligibility Criteria
| | | |
| --- | --- | --- |
| Home Loan Eligibility Criteria | Salaried | Self-employed Professionals |
| Age Criteria | 21 Years – 60 Years | 24 Years – 65 Years |
| Employment | Min. 2 Years of experience | Min. 5 Years of experience |
| Co-Applicant(s) | Not Mandatory – Only Family Members as co-applicants | Not Mandatory – Only Family Members as co-applicants |
| Credit Score | 750 or above | 750 or above |
| Max. Loan on Property Value | Upto 90% | Upto 90% |
| Max. EMI – Per Income % | Upto 65% | Upto 65% |
Before applying for a home loan, check the eligibility criteria as it may vary from one lending institution to the other, but there are some common requirements:
Any salaried, self-employed or business person with Indian nationality can apply for a home loan.
You must be aged 21 years or above.
You should have a regular source of income for timely repayment of the loan.
Your professional stability and savings history will help in quick loan approval.
Ensure that you do not have bad credit history for at least the three months prior to applying for a home loan.
If you are a salaried professionals, about 40% of your monthly gross income can be considered as your monthly EMI against the loan.
For self-employed individuals, profit earned by you majorly determines the loan value you are eligible for.
Benefits of Home Loan Eligibility Calculator
Time Saving
Instant Results
Helps in planning finances
Provides option of checking multiple schedules
Correct and Precise outcome
Home Loan Eligibility – Enhancement Tips
Boost your home loan eligibility by applying with a co-applicant: Adding an earning spouse or your parents as a co-applicant. Taking a joint loan with the co-applicant increases your income and eligibility to borrow more money. Your dream home is now within your reach with Paisabazaar Home Loan service. We offer higher loan amount on your income. Your home loan eligibility can further enhance by including income of the co-applicant(s) of your Home Loan. Use Home Loan Eligibility Calculator to calculate the amount that you can borrow.
Try to payoff your existing debts: Multiple Loans or EMIs will affect home loan amount eligibility. You should prepay some of your existing debts in order to improve your eligibility.
Long loan tenure:  Long tenure will enhance your eligibility as the EMIs go down. However, you have to pay more interest. In contrast, if you take loan for short tenure, you might be eligible for a lower loan amount.
Factors which can Enhance Home Loan Eligibility
Along with the taking home loan with co-applicant below factors can help the borrower to enhance his/her housing loan eligibility:
Stable Financial Past
Consistent Re-payment History
Clearing of all Loans and Credit Card dues
Regular Rental Income
Working Spouse or Salaried Co-applicant
Low Credit Utilisation Ratio
CIBIL score above 750
Lesser Dependents
Higher Loan-To-Value percentage of property